7 Healing Practices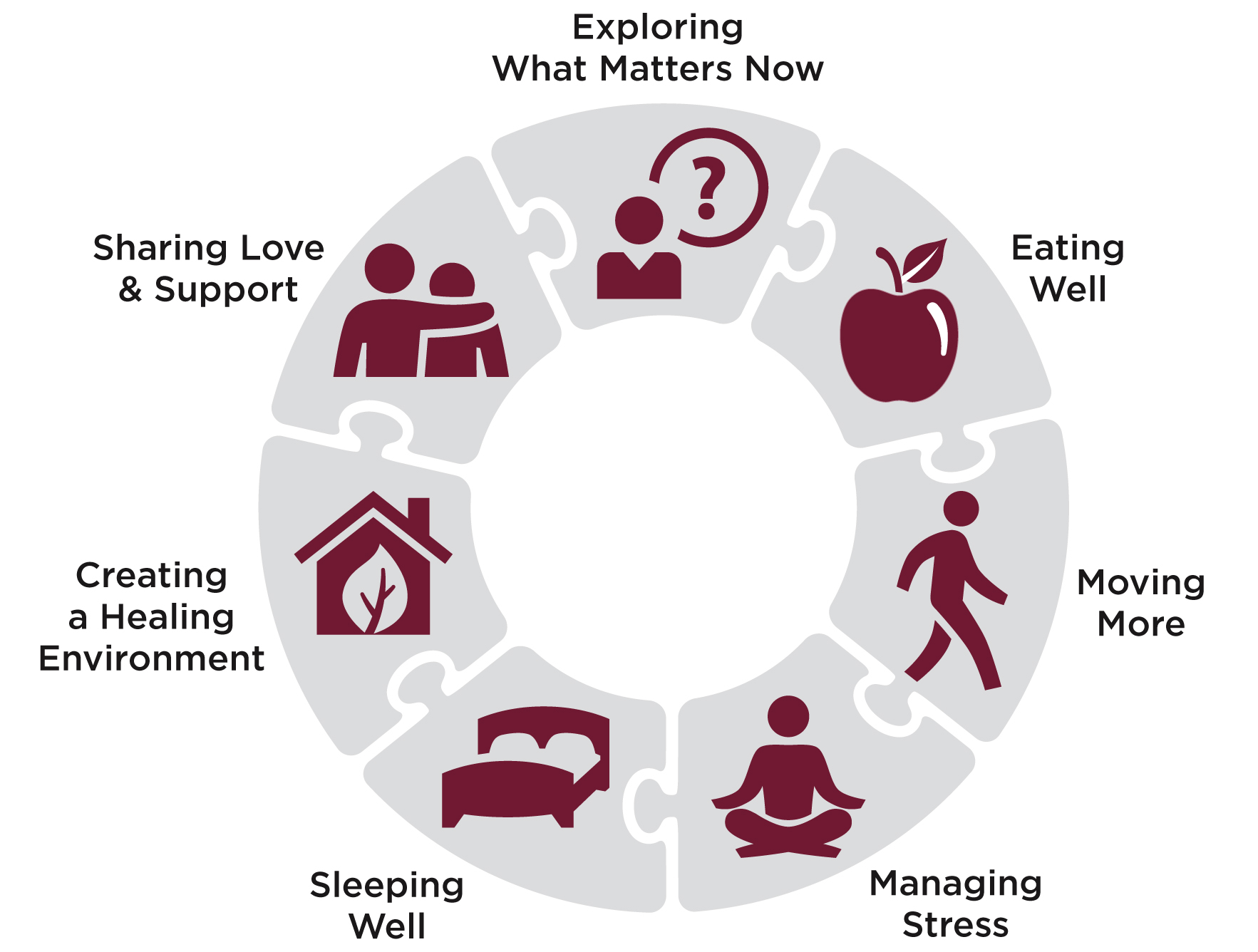 I particularly love the emphasis on the "7 Healing Practices." People underestimate the power of these things because they are free and completely accessible to anyone. I know that these ways of living are why I am alive and thriving with metastatic breast cancer almost 9 years post-diagnosis.
Highlighted Videos
Physician, researcher, and BCCT advisor Dean Ornish, MD, explains lifestyle medicine.
In this video, Dean Ornish, MD, reveals how lifestyle medicine enables sustainable changes.
Integrative physician and BCCT advisor Brian Bouch, MD, discusses integrative oncology, part 1
There is no question that eating well, moving more, managing stress and sharing love and support in your life are widely considered four pillars of building strength and resilience with cancer. These practices are interconnected, for each can strengthen the others. A poor diet, lack of movement and unresolved stress each hamper our body's resilience, while isolation is one of the greatest burdens—specially when we are not well.
Based on many years of experience and familiarity with research, we have added three additional items to make 7 Healing Practices. These connect with the previous four, with mutual reinforcement among all seven.
Sleeping well is a fifth practice, for sleep is essential for health and healing. Creating a healing environment, the sixth practice, involves not only reducing toxic exposures but increasing exposures to health-promoting environments: nature, clean air and water, bright light in the morning and darkness at night.
These 7 Healing Practices are widely endorsed in major cancer centers as components of their integrative care programs.
A seventh practice is hard to capture in a single word or phrase, or even a single concept. A first component relates to meaning and purpose. Some people find it in religion or a spiritual path. Some people—following Victor Frankl—call it our quest for meaning. Others describe it as the sense of purpose on our lives. Still others speak of what makes them feel most fully alive. Or they speak simply of what matters to them now.
A second, overlapping component of this practice regards our feelings of satisfaction, contentment and even joy. What brings each of us bliss? Some find it in nature or art or music or literature. Some find it in activity. Still others find it in their circle of family and friends.
In a sense, we are pointing to the place beyond words—to the ineffable—to the place from which meaning, purpose, belonging, joy and the feeling of being alive come to us. That place, so hard to pin down with names or labels, is the seventh healing practice: exploring what matters now.
Michael Lerner
Benefits of the 7 Healing Practices
Common Benefit
As portrayed eloquently in A Story of Health, many of the risk factors associated with cancer are also risk factors for other diseases:
Poor diet
Lack of exercise
Unmanaged stress
Poor or insufficient sleep
Social isolation
Exposures to tobacco smoke, pesticides, radiation, traffic-related air pollution and other toxics
Several or all of these factors are known to increase risks of heart disease, diabetes, stroke and neurocognitive disease. Some are also linked to reproductive difficulties, learning disabilities, asthma, birth defects, depression and other mental health issues.
Viewing health and disease as a result of the "complex ecology of modern life" gives a broader perspective. Doing so also reveals many key leverage points in which preventive actions may improve health and reduce the risk of several diseases simultaneously.
Many of these actions are specifically included in current recommendations from medical societies and other expert medical practice guidance. Addressing these risk factors through lifestyle choices can bring widespread benefits to health and improve symptoms such as pain, fatigue or depression.1
These seven healing practices are the foundation of health-promoting therapies for people with cancer. Known benefits of one or more of these practices include these:
Reduce symptoms of cancer and treatments:
Increase resilience to the side effects of conventional therapies
Improve quality of life
Creating a body terrain that is inhospitable to cancer by reducing inflammation, metabolic dysfunction and other processes that drive cancer progression
Sometimes reduce the risk of recurrence or slow the progression of illness
Reduce the risk of comorbidities such as heart disease and diabetes
These 7 healing practices are widely endorsed in major cancer centers as components of their integrative care programs. The World Cancer Research Fund/American Institute for Cancer Research includes these recommendations to prevent cancer, which correlate with our practices of Moving More and Eating Well:2
Be physically active.
Eat a diet rich in whole grains, vegetables, fruits and beans.
Limit consumption of "fast foods" and other processed foods high in fat, starches or sugars.
Limit consumption of red and processed meat.
Limit consumption of sugar-sweetened drinks.
A 2016 review of 124 articles reporting factors influencing human longevity found 14 factors that have a positive impact on longevity.3 We pair these 14 factors with our 7 Healing Practices:
Caloric restriction (Eating well)
Active effort and sports (Moving more)
Happiness (Exploring what matters now)
Vitamins (Eating well)
Vegetarian diet (Eating well)
Mediterranean diet (Eating well)
Oriental practices (Managing stress, moving more, exploring what matters now)
Socioeconomic status
Genetics
Sexual activity (Sharing love and support)
Sleep (Sleeping well)
Moderate wine consumption (Eating well)
Religion (Exploring what matters now)
Education
Cancer-Fighting Kitchen Course

Join BCCT and you'll be granted access to Commonweal's Cancer-Fighting Kitchen course free of charge. CFK is a comprehensive course including detailed information and delicious recipes, along with culinary skills and techniques that will support a nourishing experience during treatment and recovery.
Read more about the 7 Healing Practices and approaches on these pages:
More Information
Enter your comments or questions below.
Comments (0)
-- end quip comments -->